Pineapple Liturgy I
2017. 32 x 40 inches. Archival inkjet print
Pineapple Liturgy II
2017. 32 x 40 inches. Archival inkjet print
Monzogranite Cacti Offering
2017. 32 x 40 inches. Archival inkjet print
Turtle Queen in Repose
2016. 32 x 40 inches. Archival inkjet print
The Magician
2015, 32 x 40 inches. Archival inkjet print
Sun Entombment in Banana Leaf Shroud
2016. 30 x 26 inches. Archival inkjet print
Quantum Double
2016. 32 x 40 inches. Archival inkjet print
Moon Aloe
2017. 19 x 24 inches. Archival inkjet print
Toe Egg
2016. 32 x 40 inches. Archival inkjet print
Eyes of the Sun
2016. 16 x 20 inches. Archival inkjet print
The Wolf
2015. 19 x 24 inches. Archival inkjet print
Turtle Queen
2016. 19 x 24 inches. Archival inkjet print
River Net
2016. 16 x 20 inches. Archival inkjet print
Turtle Queen Reversed
2015. 19 x 24 inches. Archival inkjet print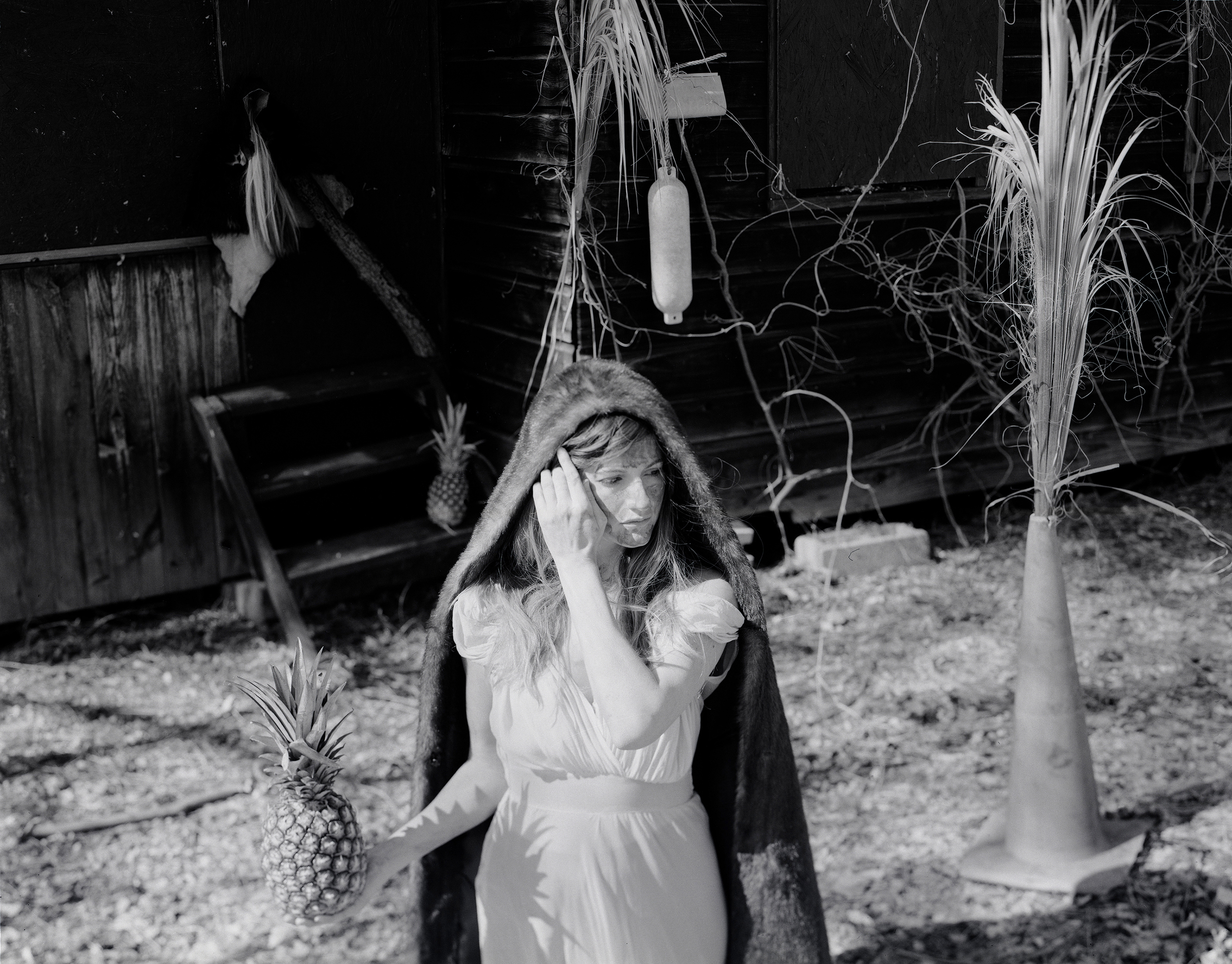 Palm Cone
2015. 16 x 20 inches. Archival inkjet print
In Sunfall
2015. 12 x 15 inches. Archival inkjet print
In photographs I am the Priestess, performing camp rituals and offerings in surreal American landscapes, often deserts and coastlines.
Part Buster Keaton and part Barbarella, the Priestess is a mystic vagabond. She consecrates landscapes with gestural incantations. Her rites are conversations with the primordial unconsciousness of nature. Her precarious confidence is stylistically drawn from women of 1970's horror films.
In the winter sun of the ancient desert, her tropical fruits or a wayward shopping bag become comical and fraught emblems of the present.
The realm of the Priestess is simultaneously an imagined matriarchal past, and a vision of a possible new future.
The performances are staged for photographs.